The Abu Dhabi government has announced the Hope Consortium, a public-private partnership that will help distribute COVID-19 vaccines worldwide. It plans to ship 6 billion COVID-19 vaccines globally, rising to 18 billion by the end of 2021.
The Consortium is made up of one government body and five companies. These companies range from port operators to airlines, including Abu Dhabi Ports, SkyCell and Etihad Cargo. The Consortium says it already shipped 5 million vaccines during November.
Abu Dhabi Ports will provide pharmaceutical-grade storage facilities in the Emirates, some of the largest in the region. The port operator announced it has the capacity to store 70 million doses in temperatures ranging from -80℃ to 8℃.
Swiss company SkyCell will supply the physical storage containers to keep vaccines cool during transport. Its temperature-controlled "smart containers", combined with data analytics, can store contents from -40℃ to 70℃.
Emirati airline Etihad Cargo will use its intercontinental network and fleet of planes to help supply vaccines around the world. Moreover, the Consortium says that two-thirds of the world's population is within a four flight of Abu Dhabi.
In addition to these companies, the newly formed Rafed Group will manage the partnership's industrial logistics. Lastly, the Abu Dhabi Department of Health will ensure the Consortium complies with overall regulations.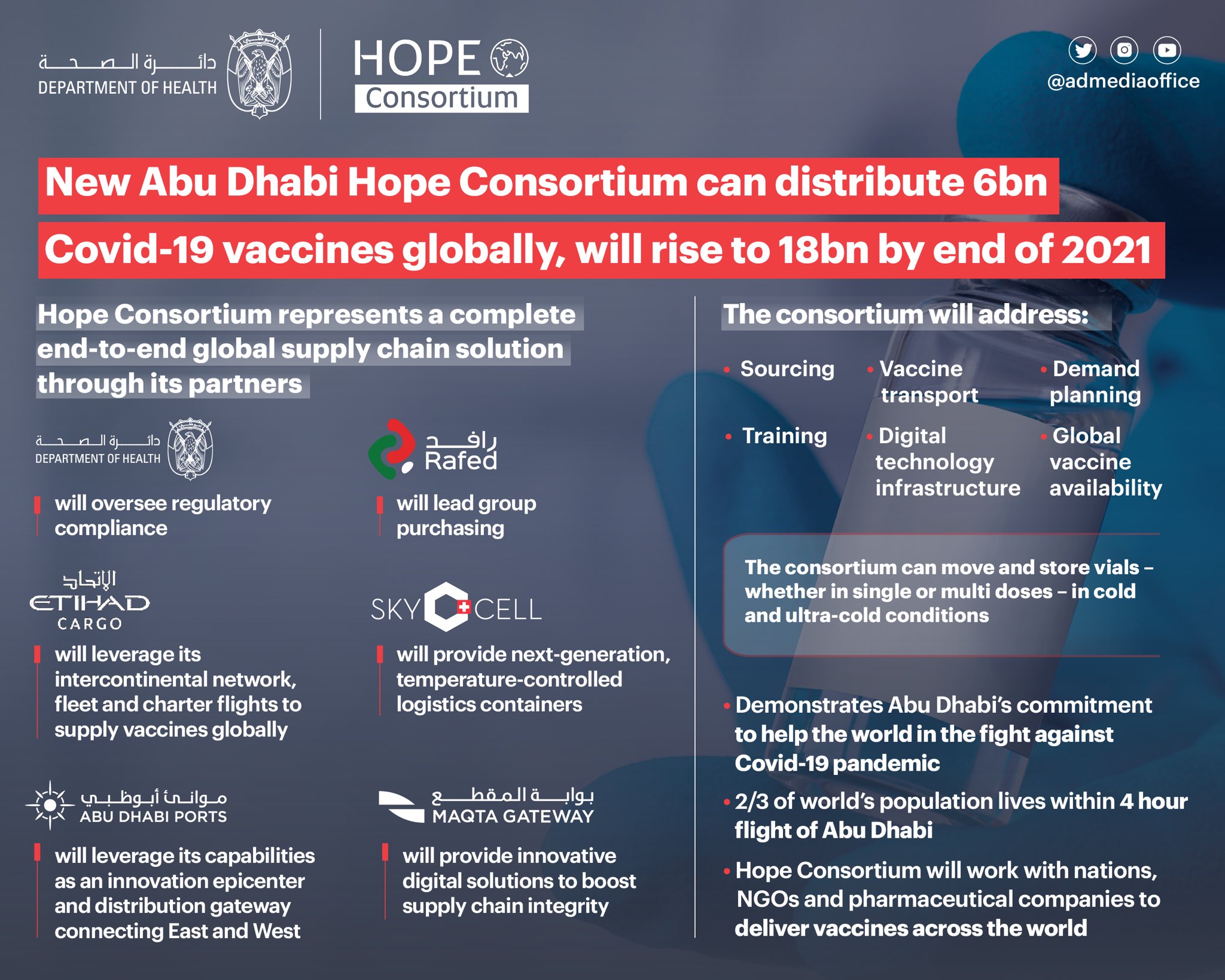 The announcement comes weeks after pharmaceutical companies Pfizer, BioNTech and Moderna reported that their vaccines were over 90% effective in preventing COVID-19 transmission during their early-stage vaccine trials.
For more COVID-19 coverage check out…
If you see something out of place or would like to contribute to this story, check out our Ethics and Policy section.