2020 was a good year for the Egyptian FinTech sector on its long journey to maturity. A year of crosswinds and tailwinds that brought us the much anticipated banking law, our first Fintech Unicorn and a number of other trends that put us on the right pathway.
2021 in many ways can be considered as an accelerated continuation of 2020. A year that cemented our place as a promising and growing hub for FinTech startups. A year to – cautiously – celebrate, we are moving forward but we are still far from our destination.
I have structured my review into two parts: the first will predominantly cover investment and fundraising analysis and trends and will attempt to put our progress in context. The second part will cover other key trends of 2021 with a focus on strategy, functional and regulatory trends.
Investment and fund-raising analysis
Before we get to 2021, let's revisit FinTech investments in 2020. Egyptian FinTechs have raised an estimated $42-45 million, with two rounds making up two-thirds of this amount: Lucky, raised $15m and MNT-Halan, which was reclassified as a FinTech, raised $14m.

This figure was an improvement over anything we had seen so far but still very meagre for a country with our size and potential.
Figure 1: Egyptian FinTech Funding in 2020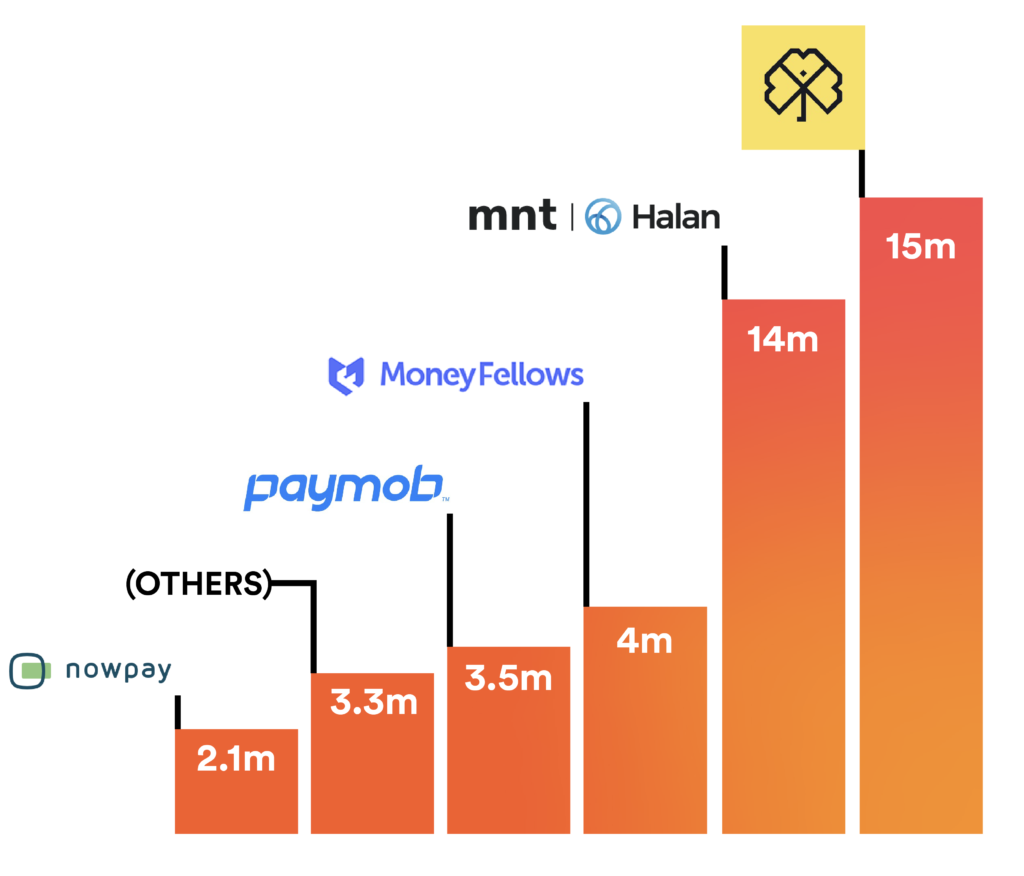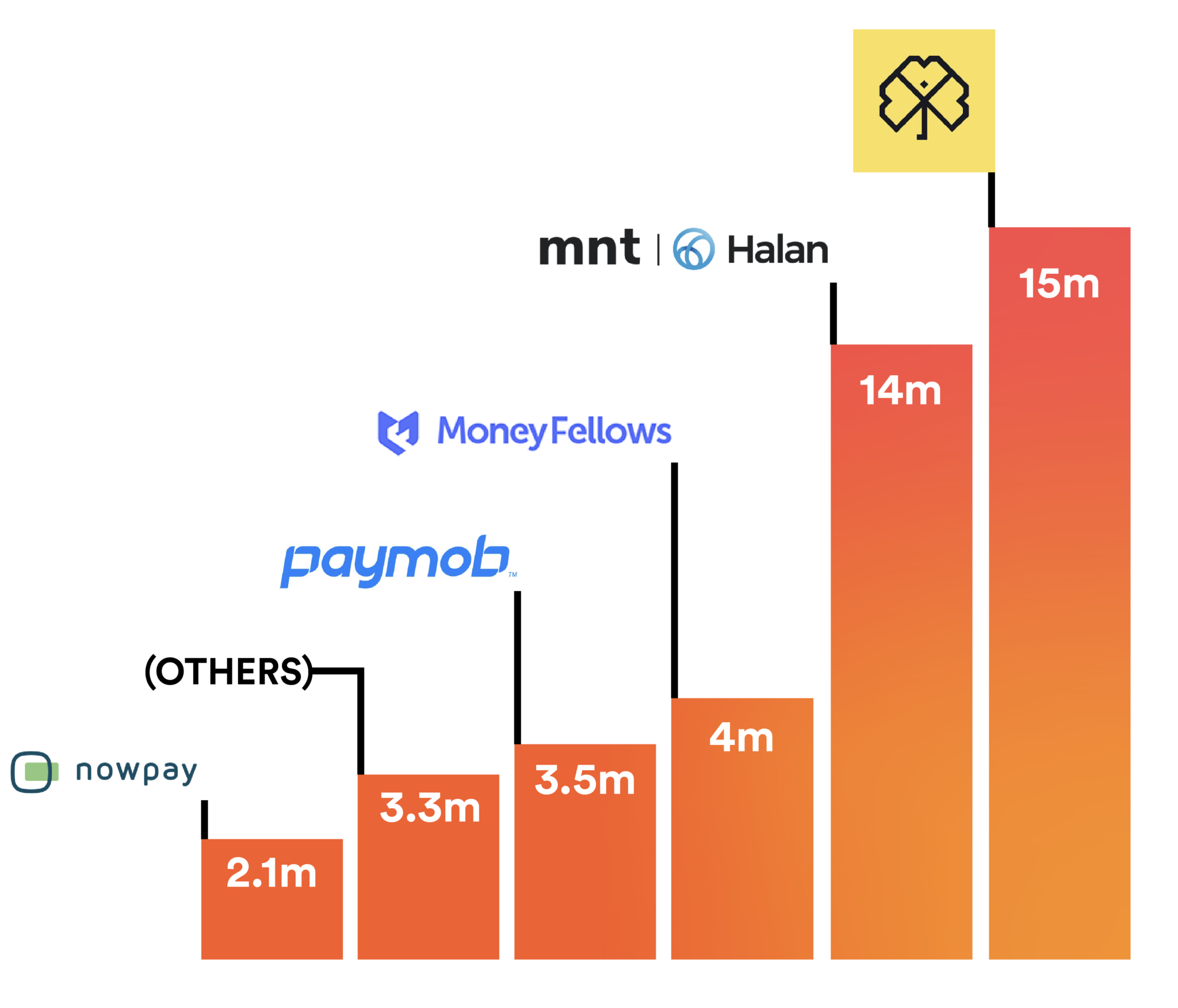 2021 was a lot better, as has been the case for FinTechs globally, driven by investors looking for alternative investment vehicles in a low interest rate environment.

My estimate is that funding raised by Egyptian FinTechs grew by a whopping 380% year-on-year, albeit from a small base, to a record ∼$200m. 4 Ventures – MNT-Halan, Lucky, Dopay and Paymob – accounted for a combined 88% of this figure.
Figure 2: Egyptian FinTech Funding Growth in 2021 vs 2020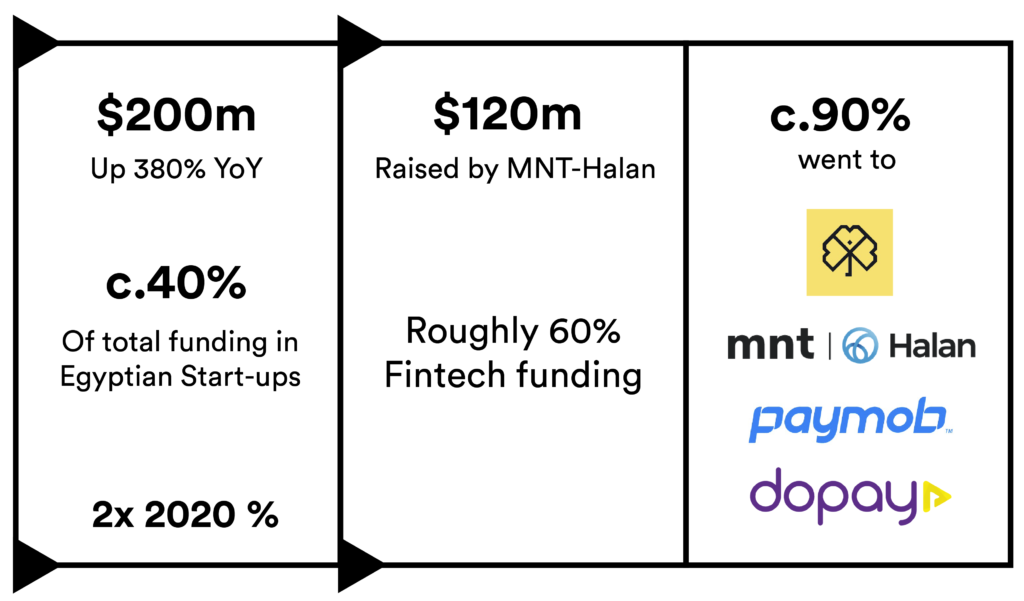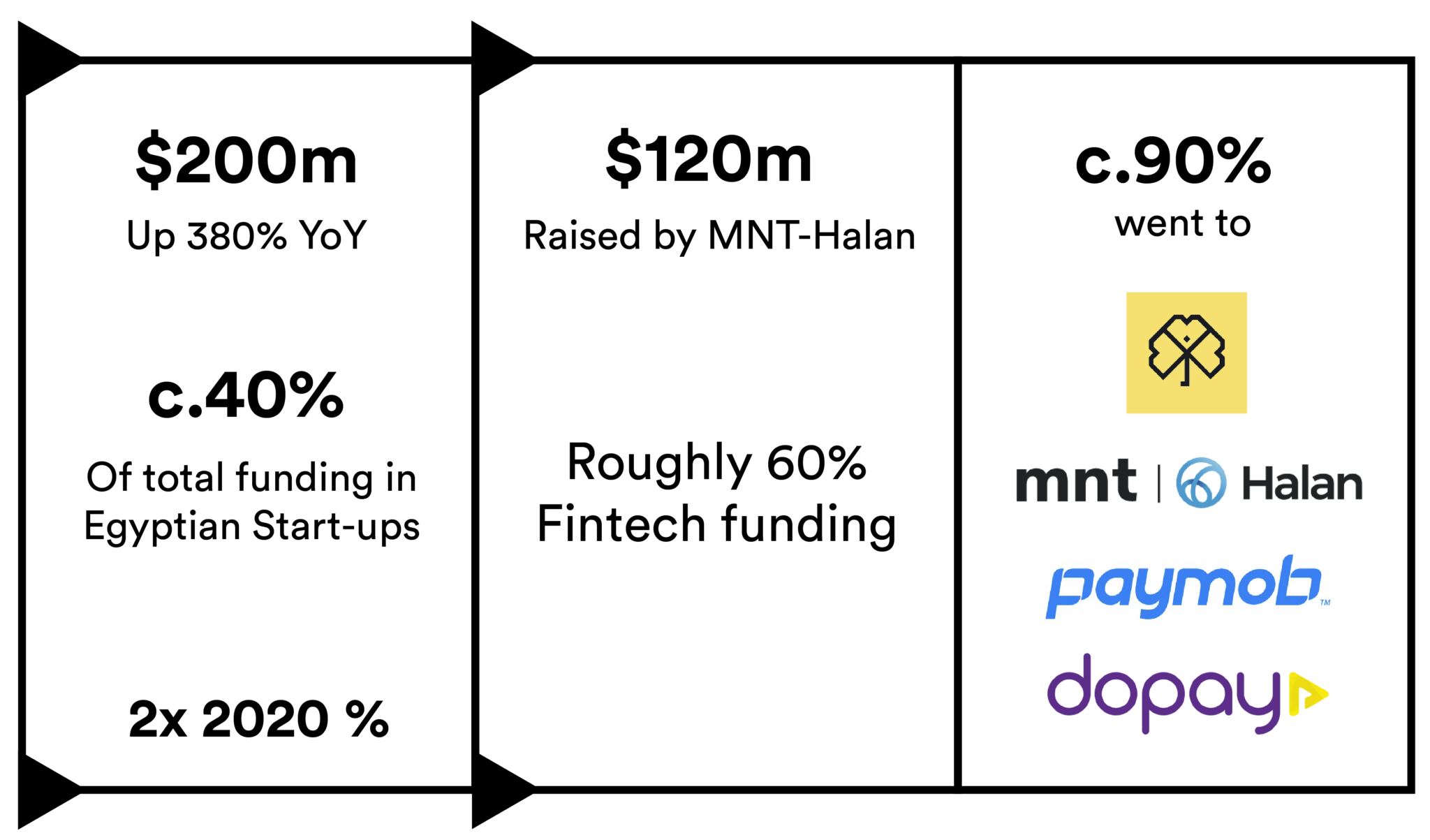 Let's take a look at the largest rounds of the year:
MNT-Halan, the FinTech super-app, alone accounted for 60% of the total funds raised by Egyptian Fintechs and roughly a quarter of all funds raised by all Egyptian ventures in 2021. MNT-Halan raised $120m in a mega-round from Apis partners, Development Partners International (DPI) and Lorax Capital Partners, Middle East Venture Partners, Endeavor Catalyst, DisruptTech and others. The superstar venture, that is the outcome of a share swap between Netherlands-based MNT and Egypt's MNT, offers a wide range of services, including: small and micro business lending, payments, consumer finance, e-commerce, delivery and most recently buy-now-pay-later (BNPL).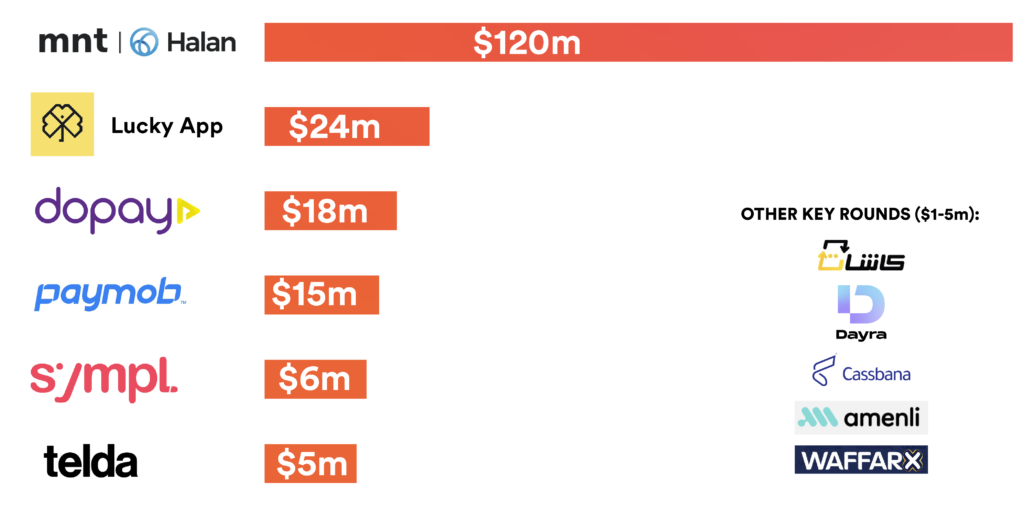 Lucky, loyalty, cashback and credit app, has quietly become one of the top funded Egyptian FinTechs and start-ups. The venture, founded in 2018, has raised a total of $44m. It currently operates in Egypt and Morocco and caters to more than 6.5 million customers.
Dopay, a start-up that provides payroll services and prepaid cards for the unbanked and another great success story, has raised $18m in Series A funding last year to further develop its current operations and offer new services.
Paymob, a digital payments provider, has also raised $15m to help fuel its regional expansion – a trend that is becoming more common among Egyptian FinTechs and one that we will tackle in the second part of the review.
Other notable mentions include Sympl, new BNPL challenger that raised $5m in funding and is getting a lot of attention, Telda, a very promising venture that managed to attract Sequoia capital to our region for the very first time, Dayra, YC-backed lending venture and Amenli, insurtech player with big potential. 
Kudos to them all and all others on the list. Investments are a sign that we are on the right track to grow the ecosystem but we need to remember that fund raising is a means to an end. And as such, we need to cautiously celebrate it in context. It's still very early days for our ecosystem.
Investors backing our Fintech ventures
If we look at who invested in Egyptian Fintechs in 2021, we will continue to see local and regional heavyweights present such as: Flat6Labs, Global Ventures, Disruptech and Algebra Ventures. They should be credited for their faith in the ecosystem in its early days.
A new trend, however, is emerging, global heavy weights are starting to notice our great ventures and promising potential. Sequoia Capital has finally invested in start-ups in our region, Y Combinator (YC) has also upped its investments in Egyptian FinTechs from only one, Thndr, in 2020 to three in 2021: Dayra, NowPay and Amenli.
In addition, we saw the continuing presence of angel groups and larger private-equity firms. It is important for us moving forward to attract a very diverse group of investors with varying scale and risk appetites to propel growth in all aspects of the ecosystem.
Cautious optimism
Despite recent growth, our ecosystem is still smaller and less mature than that of comparable countries. Tellimer research analysed the FinTech density, an unorthodox metric of relative scale number of fintechs/population, and concluded that ours lag emerging markets peers (with 0.8 Fintechs for every million population in Egypt – at the time, compared to 3+ for South Africa and Kenya and 2+ for Saudi Arabia).
In terms of funding, our $200m raised in 2021 also lags other peers. Africa: The Big Deal database estimates that Nigerian fintechs raised $850m last year, while those in South Africa raised $670m. Start-ups from both countries combined have raised 5 Fintech mega-rounds last year (compared to our one and only). We still have a long way to scale up.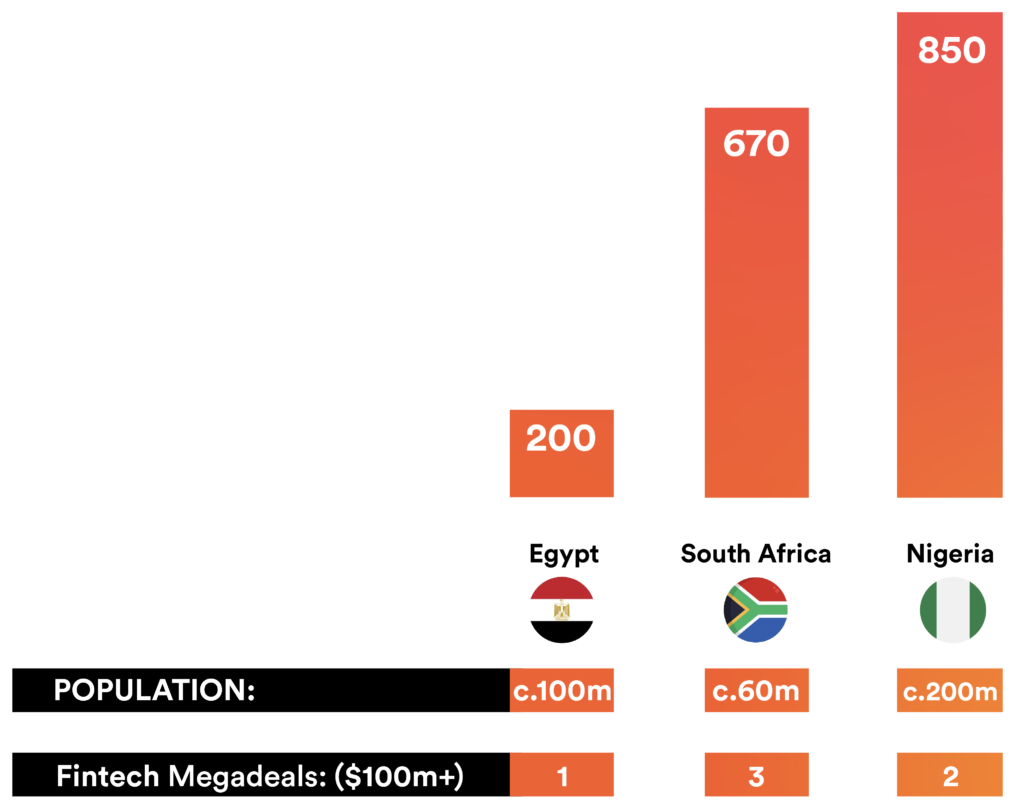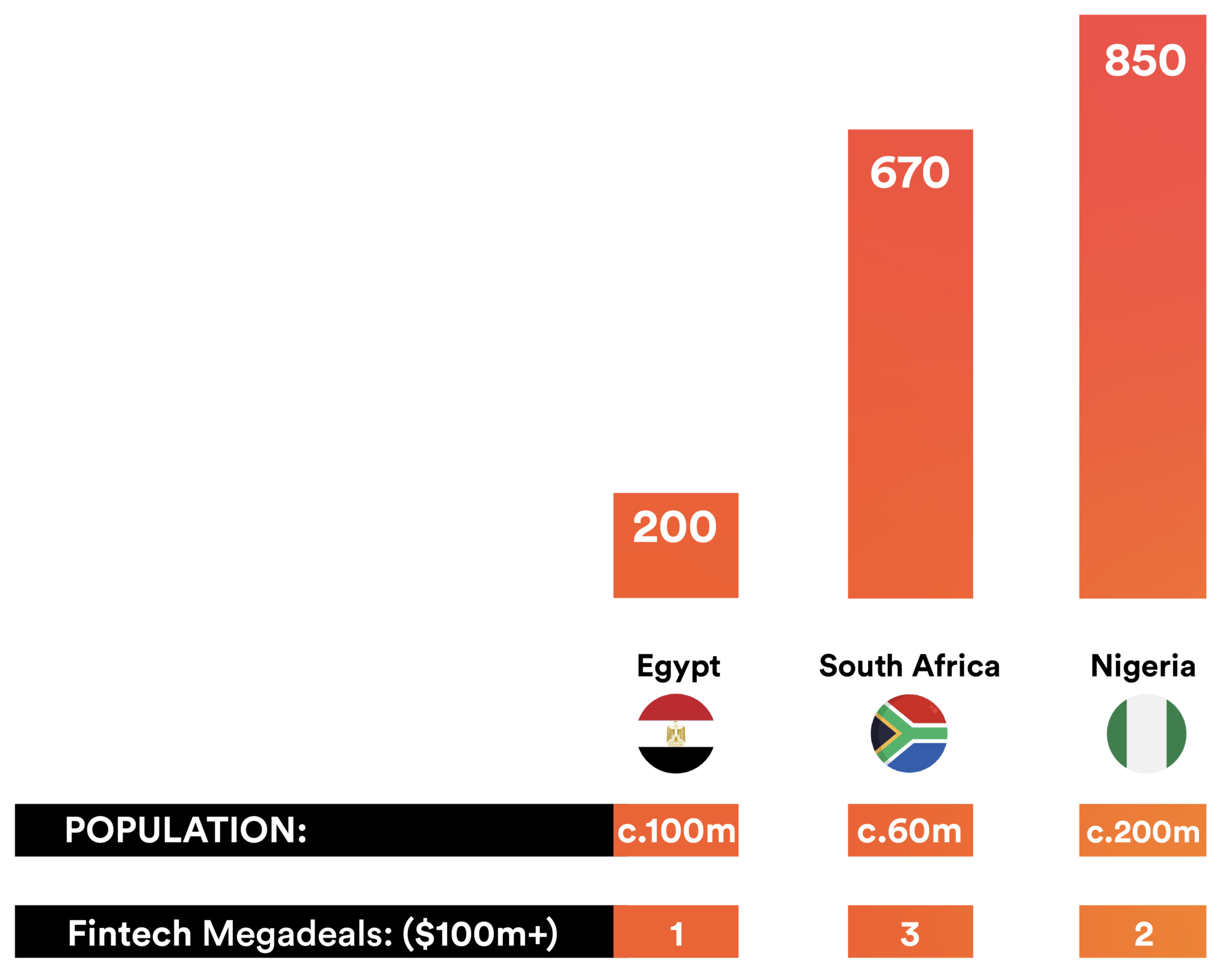 Aside from being relatively small, our ecosystem is also heavily skewed towards payments and lending start-ups – a common feature of most nascent/developing ecosystems. I estimate that 80% of Egyptian FinTech funding in the last two years went to these two sectors (with Lucky raising the majority of the remaining 20%). We need to see more developments in other areas of the ecosystem such as: digital banking, insurtech, investment and wealth management, crypto, defis and other cutting edge areas.
To summarise, In 2021, we have seen more funds raised by more ventures, more reputable investors bet bigger bets on our FinTech startups. This is all very positive and worth celebrating but we are still at day 1. Let's ensure that we are all working together to build a sophisticated, innovative and sustainable ecosystem to continue our growth and catch-up with our peers to achieve our potential.
If you see something out of place or would like to contribute to this story, check out our Ethics and Policy section.